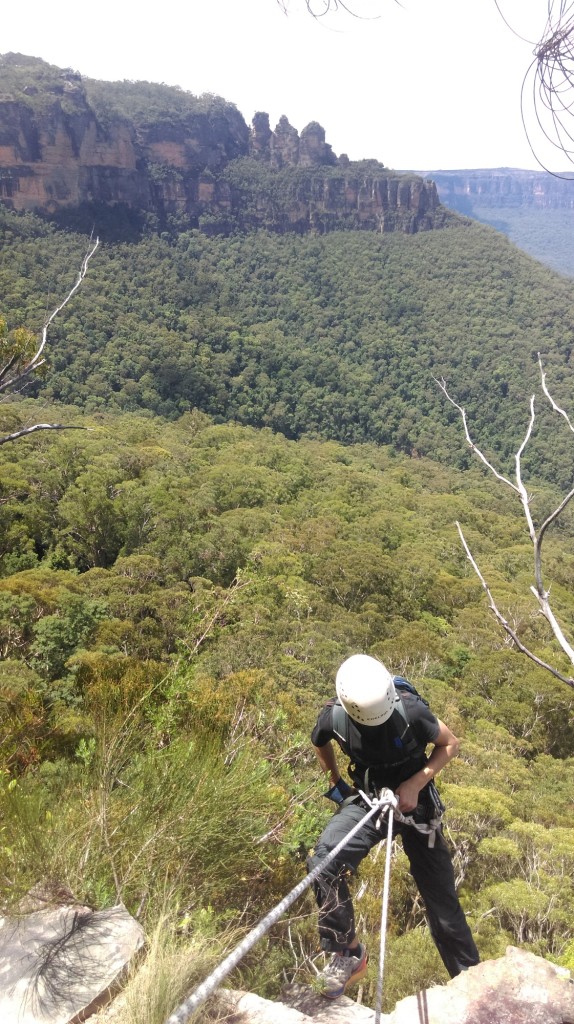 Abseiling (also known as rapelling) is an activity which involves descending a cliff face or another elevated obstacle such as a building, tower, tree, retaining wall, bridge with the assistance of  a rope and harness. Abseiling techniques are often used by rockclimbers, canyoners (canyoneers), mountaineers, emergency services, the military, and commercial rope access operators (e.g. window cleaners and specialist construction workers).
Abseiling has become a very popular recreational activity in recent decades. It's a great bonding experience for teams, school groups, couples and families. It's also an extremely effective  team building activity for corporate groups and school camps.
Abseiling is typically performed in a style which sees the participant bouncing, running or walking backwards down the cliff face. The technique is easy to learn, with most people picking up the fundamental technique within half a day.
The military sometimes perform face forward abseiling which requires specialist training and equipment. Face forward abseiling is also more technically difficult and a higher risk activity.
Our team would love to organise an abseiling adventure for you.
We offer Half Day & Full Day Abseiling Adventures for participants of all ages. Adventures include Introductory Abseiling Experiences (single pitch abseiling) and more challenging monster cliff line descents  (single or multi-pitch).
If you are after and adventure to push your skills why not take on the longest commercial abseil in NSW with a descent of over 100m in a single pitch.
Half Day Introductory Abseiling: $550 per person including GST
Full Day Introductory Abseiling: $660 per person including GST
The Longest Abseil Adventure: $790 per person including GST
Multi-pitch Abseiling Expedition Full Day: $690 per person including GST