Liloing is a style of canyoning which involves floating and paddling along a creek or river on an inflatable air mattress. Many of the rivers suitable for liloing in the Blue Mountains flow through narrow gorges (canyons) and these environments are also great places to swim, perform water jumps (jump from rocks into deep pools of water) and try deep water soloing (rockclimbing above deep pools of water without ropes). They are places of great natural beauty!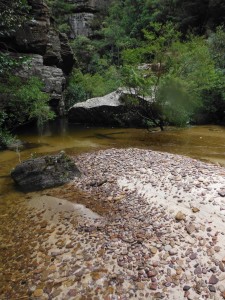 The lilo itself is a durable style of air bed which makes a great flotation device. It moves well on flat water and can shoot small rapids. It's also easy to carry to and from the water, as well as while portaging to bypassing larger or more dangerous rapids.
It's one of the most enjoyable summer recreational activities available in the Blue Mountains. Most liloing adventures take a full day to complete, although there are some great half day activities as well as multi-day adventures to the more remote streams such as the Colo River. The multi-day trips can take up to three days.
Most of the creeks and rivers we explore via lilo can only be accessed on foot, so participants need good fitness to complete the walk to and from the river. No previous experiences is necessary.
Here are a few classic Central Tablelands liloing adventures we recommend
Wollangambe River Canyon
Bell Creek
Cox's River
Glenbrook Creek
Grose River
Colo River
Kowmung River
Macquarie River