Multi Day Expeditions
If you would like to fish for sizeable trout in pristine waters then an overnight expedition might just be the adventure for you. We visit some of the most remote a spectacular places you can imagine on these exciting and challenging adventures. Overnight expeditions are available all year round including over the winter months when the best fishing is on offer.
Most expeditions are very physically demanding and involve an extended hike into a remote gorge. We also offer some less demanding overnight expeditions for those who don't have the fitness for extended hikes.
The most remote locations offer the best angling as very few people visit these sections of stream.
Two Days / One Night: $2200 per person including GST
Three Days / Two Nights: $3300 per person including GST
Four Days / Three Nights: $4200 per person including GST
Fishing Tour Accommodation Packages
If you would like to stay in our beautiful region to enjoy some fishing. Let us help you find the accommodation which meets your needs. There are many bed & breakfasts, lodges, hotels and resorts.
We would be happy to recommend the right accommodation for your needs.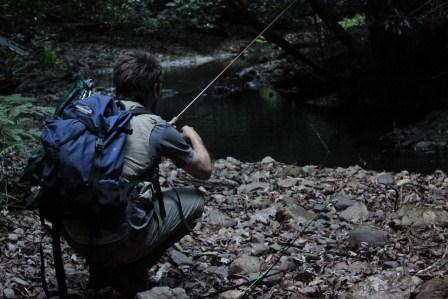 Standard Package Rates
A Full Day Fishing Experience  with one night of accommodation included: From $880 to $2330 per person including GST
Two Full Days Fishing Experiences with two nights of accommodation: From $1920 to $4330 per person including GST
We also offer great premium package deals with high end accommodation providers in our area. Some accommodation providers have a minimum two night stay and are only available with a two night package.
Please feel free to contact us for a location specific quote.