If you would like to improve your fly, spin or bait casting. We have casting instructors who would be delighted to teach you. We run private casting lessons and group casting courses on a regular basis.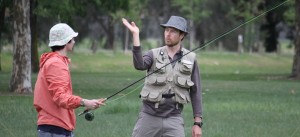 Private Casting Lessons
If you want to catch more fish then then good casting skills will certainly improve your chances of bagging your target species. Accurate casting also leads to less time untangling you line from trees, increasing in the amount of water you can fish and reduces the risk of repetitive stress injuries caused by bad technique.
One on one casting instruction is by far the best way to become a competent fly caster. You'll progressively gain the skills you need to bag fish in practically any conditions. Courses can be individualised to suit your requirements. Our instructors offer detailed tuition for novices and stroke correction for experienced casters to help you fine tune your technique.
Private Casting Lessons Half Day: $770 per person including GST (5 hours) 
Private Casting Lessons Full Day: $880 per person including GST (8-10 hours)
Short Fly Casting Courses For Groups
Learning to fly cast is an excellent group activity. It's a fun and challenging activity suitable for people of almost any fitness and experience level. Using the Federation Of Fly Casters teaching model, we can successfully teach novices to cast effectively with just a few hours practice. The methods we use a perfect for group tuition.
Our courses cover safety procedures, equipment (selection, care, setup, etc), principals of fly casting, casting technique, line management and ethics/etiquette for anglers.
Our courses are very popular with female participants and we generally find women learn the techniques faster than men. We often run programs for Corporate Team Building Groups / Conferences, Fishing Clubs, Bucks/Hens Parties, School Sport/Outdoor Education, Birthday Parties and Large Family Groups.
Our group casting courses will run for groups of 6 or more participants.
Group Casting Course Half Day: Price On Application
Weekend Fly Fishing Courses
Our weekend courses are designed to give participants in depth fly casting training. The course includes an opportunity to put your casting skills to the test on waters well stocked with trout, where you'll hopefully bag a big fish or two.
This course normally includes accommodation.
Price On Application