We specialise in fishing on the Central Tablelands of New South Wales. Just two hours west of Sydney. Our clients primarily come to the area to target brown and rainbow trout, although we love to fish for all the species present in the area.
Our expert guides will let you in on local secrets and help you gain the skills you need to bag a big one. Day tours are suitable for all fitness and skill levels from novice to expert. Expeditions are suited to people with solid fitness and previous fishing experience.
Here is an outline of the main types of fishing adventures we run.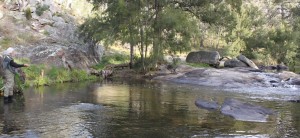 Full Day Expeditions
Our fishing expeditions are exciting adventures into some of the most spectacular and beautiful corners of the region. We visit a variety of rivers, including those in the famous Cox's, Kowmung, and Macquaire River Catchments.
Participants must have strong fitness, agility and previous fishing experience. These expeditions are no walk in the park, but the physical challenges of these adventures offer many rewards for your effort, as the fishing can be spectacular in these pristine and rarely visit streams.
$880 per person including GST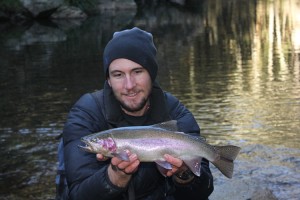 Full Day River Fishing Tours
Let us take you trout fishing along the winding waterways of the Blue Mountains and Central Tablelands. These day tours visit locations which are more easily accessible than our expeditions, so you'll pack in plenty of fishing.
The bubbling streams we visit offer a wide variety of fantastic fishing.
If trout don't take your fancy you can also chase bass, cod, golden perch, carp and many other species at selected locations.
Day tours are available to suit all fitness and skill levels from novice to expert.
$880 per person including GST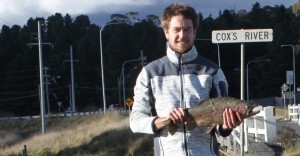 Full Day Lake Fishing Tours
The dams of the Central Tablelands are many and varied.
Thompsons Creek Dam (TCD) is a good example of a lake which is teaming with fishing. It's just one location we love to share with visiting anglers. Let us know which species you would like to catch or the technique you would like to learn and we'll tailor a day to your needs.
Fishing methods permitted at most lakes include fly, lure and bait. We cater for each of these methods at appropriate locations. Please note that bait fishing is not permitted at TCD. Other lakes we visit include Lake Lyell, Wallace, Oberon Dam and Ben Chifley Dam.
$880 per person including GST